The spirit of adventure should never escape our life, the color of the ocean is much more attractive than we can imagine, and our curiosity and exploration of underwater will never stop. Allowing the public to embark on beautiful adventures in shallow waters with lightweight, easy-to-use dive gear, enjoying the same dive safety at a more affordable price was the beginning of the SMACO story. Later, we moved forward and received so many positive feedback from our users, which encouraged us a lot, and we are also excited by the adventurous spirit you have shown when diving.
To that end, we have a surprise announcement, a new event dedicated to all SMACO fans:
#SmacoAmbassador – Looking for the Underwater Adventurers
We invite all our fans to join the #SmacoAmbassador program, wondering what we have prepared for you?
Generous bonus $$ + product reward – Discover more underwater adventurers who explore the freedom, love and persist in diving (or snorkeling).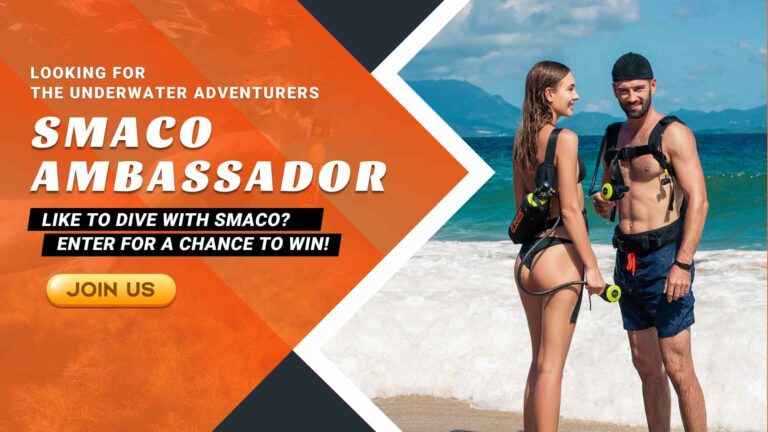 How to Join the SMACO Ambassador?
Read the event details below

Submit video or photo materials
 If your submission is accepted, we will incorporate you into the special SMACO Ambassador Program and publicly post it on our official social media, giving you a voice as an SMACO Ambassador. In addition, you will also get bonus rewards up to $200, and even have the chance to get any new SMACO product you want for free.
Does that sound satisfactory? If this has piqued your interest, move below for detailed instructions:
Entry Details
Entries are open from now
This event is only open to SMACO fans
Participants must submit video(1-2 minutes recommended) or photos (3-6 photos recommended 

)

Entries must align with following 'Content Details'
Content Details
We want to find out which products fans love the most and how they use them for their underwater explorations. You can submit via video or photo, but we prefer that you choose the video, which has a greater chance of winning and helps us to know the full story of your underwater adventures.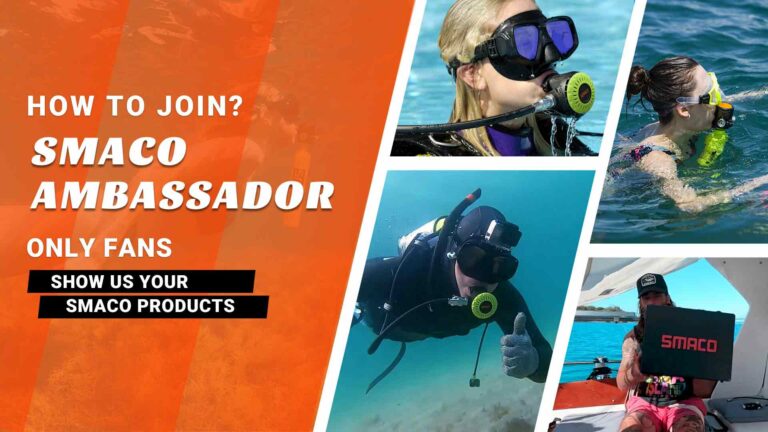 If you choose the video, please include the following criteria:
Introduce yourself
Share and show SMACO product(s) that you own
Use the product(s) in the video
Anything else you want to share



If you choose the photos, please shot 3-6 photos including the following criteria:
A group photo of you with the product(s)
2-5 photos of the product(s) being used
Anything else you want to show
Submission Details
If you submit via social media
Please use the hashtag 'SmacoAmbassador' and tag SMACO
Please send it to: contact@smacosports.com
Subject name: Your name + #SmacoAmbassador
Selection & Prize Details
The #SmacoAmbassador review team is composed of SMACO internal staff. If your submission includes the above criteria, then it will be accepted by us. The bonus is determined according to the quality and completeness of the content.
Bonus setting:$20-$200
Unlimited number of winners
Unlimited number of entries
The review period is 2 Business Days
If you have any questions about the event participation rules, please visit the SMACO official community on facebook to leave a message, and we will answer in detail. You can also share your process of works and fun facts of diving in the community anytime!
We look forward to your participation and let's see what amazing adventures you have accomplished with SMACO! If the #SmacoAmbassador event gets a good response from you, then we'll keep it going at this time of year, hopefully it will be a great idea.