SMACO NEWEST UPGRADED
Introducing the SMACO S700 2L Scuba Tank – the newest, most advanced scuba tank available. Our upgraded design boasts enhanced durability, superior performance, and maximum safety standards. Enjoy longer dives, greater ease of use, and unprecedented reliability with the SMACO S700 2L Scuba Tank.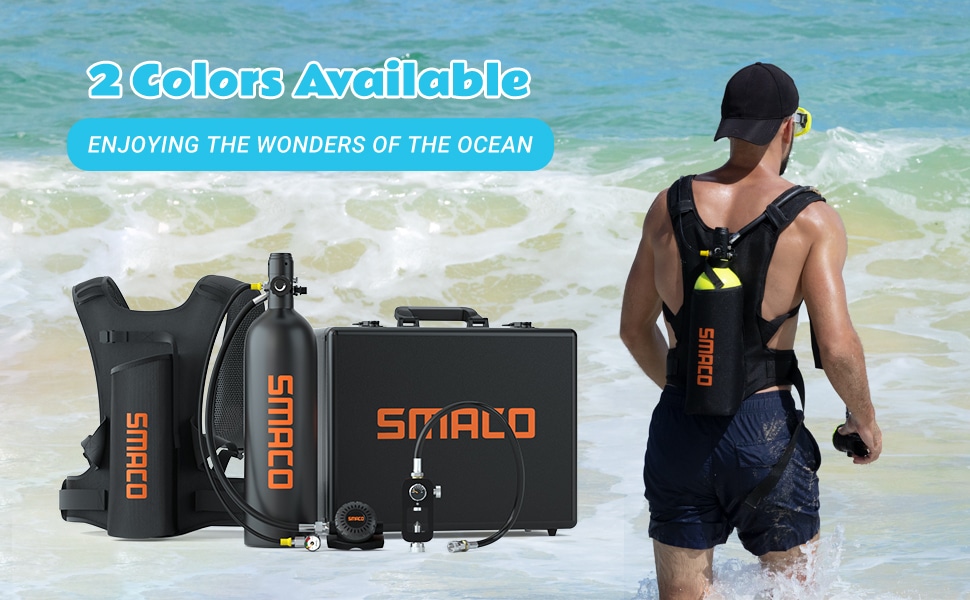 | | |
| --- | --- |
|  Brand    SMACO | Type    S700 2L Scuba Tank |
|  Color    Green Black | N.W    6.5kg |
|  Using time    up to 20 minutes | Size    42.9 × 11.4 × 8.9cm |
|  Material    6061 Aviation Aluminum | Capacity    2 L |
|  Max working pressure     3000psi/200bar/20Mpa | Surface Technology     Hard oxidation + Plastic spraying |
|  Breathing valve thread     M18×1.5 | Output way    Constant pressure is about 2Mpa |
|  Inflatable male     8mm | Breathing times     (Calculated at 0.5L per breath) About 540 times |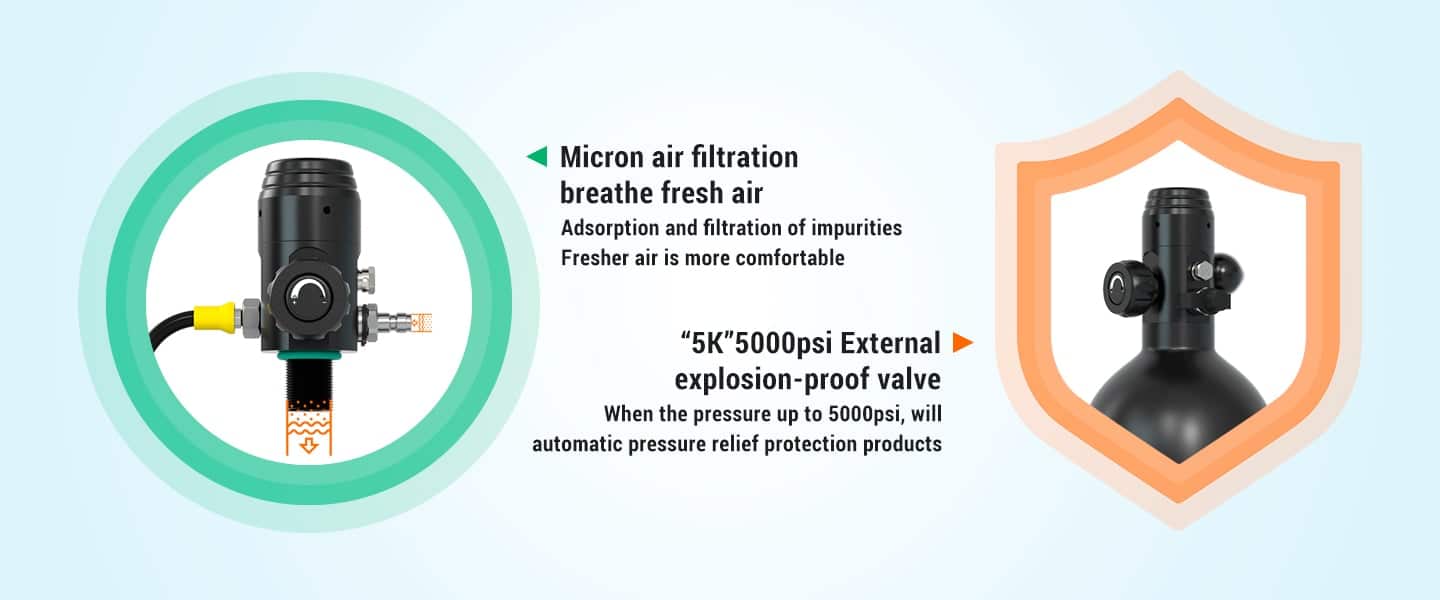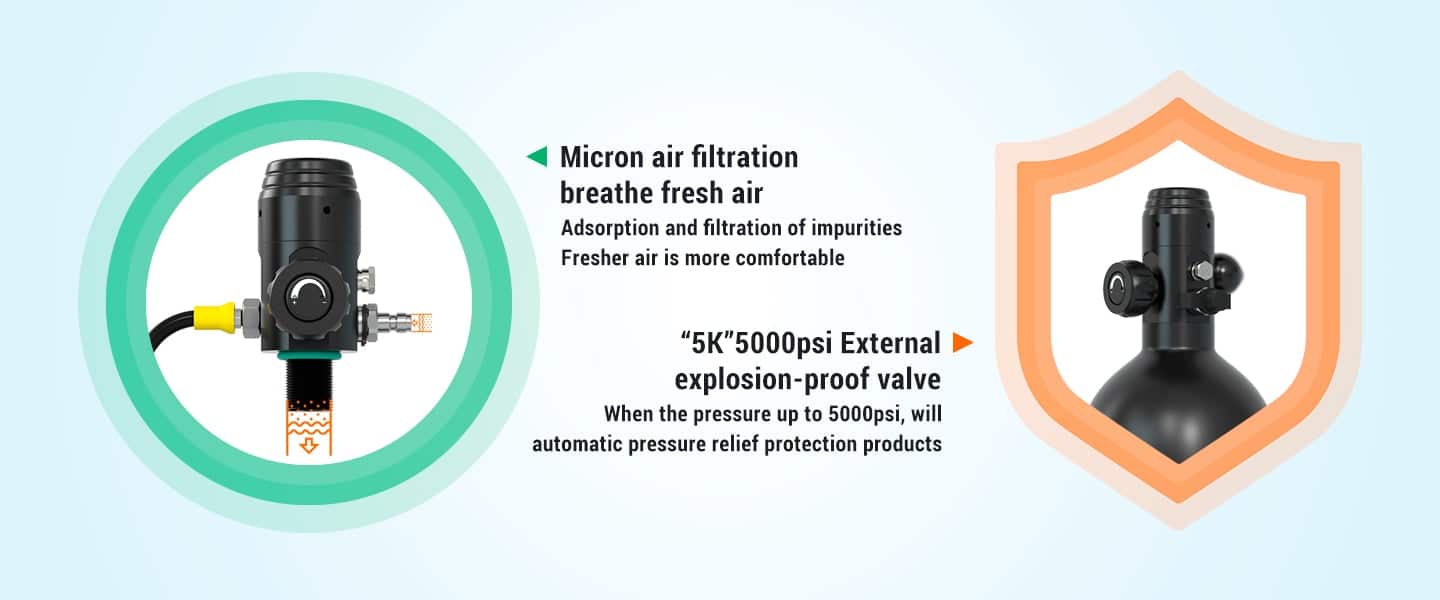 High quality regulator: stable performance and durable, ensure more safety
High-performance first-stage regulator: stable performance, reduce the work of the second-stage regulator.
Are you looking for a scuba regulator that provides you with the freshest, safest air, with maximum performance and protection? Look no further! Our Excellent S700 2l Scuba tank is equipped the regulator with a Micron Air Filtration System for adsorption and filtration of impurities, and a 5K 5000psi External Explosion–Proof Valve for pressure relief protection. Plus, its high–performance first–stage regulator ensures stable performance for a more enjoyable underwater experience.

Portable 2L Mini Scuba Tank
It's the perfect choice for people who travel a lot and enjoy diving. It has a smaller size and weight, so you can easily carry it around.
It also has a higher air capacity than others mini scuba tanks from smaco, which means you can stay underwater for longer. Plus, its innovative air exchange system makes it easier to use and more efficient. So if you're looking for an easy and safe way to dive, the Smaco S700 is the perfect choice for you.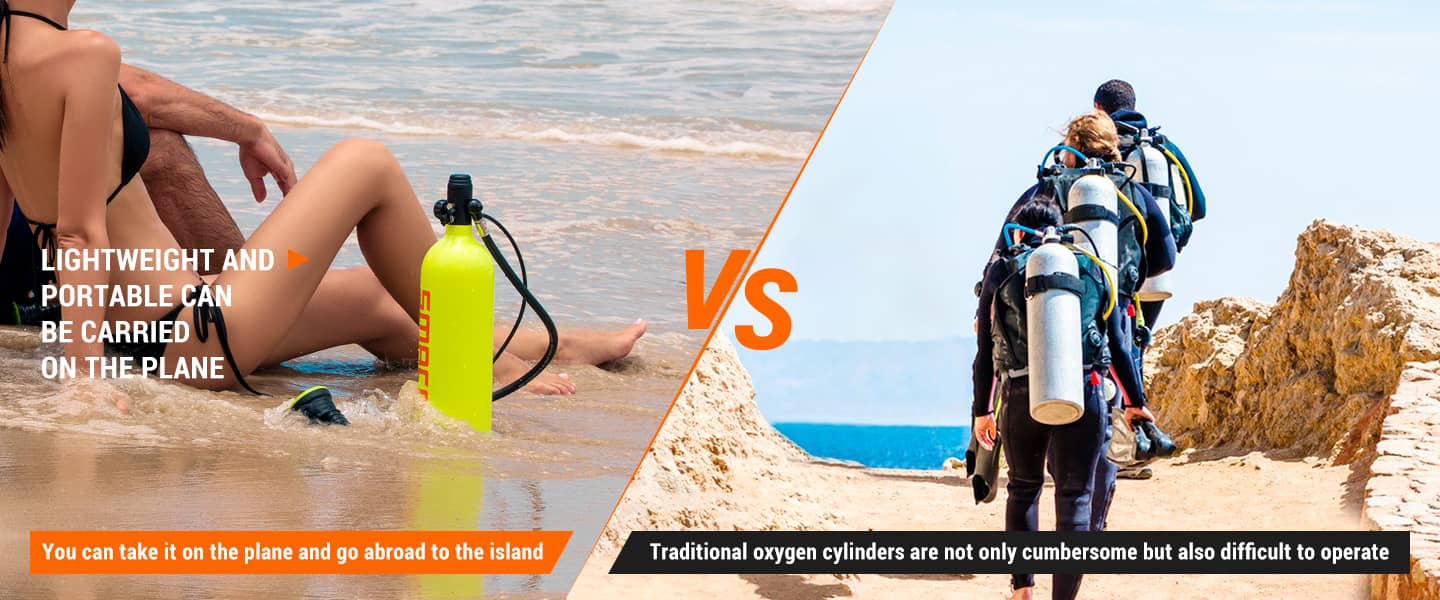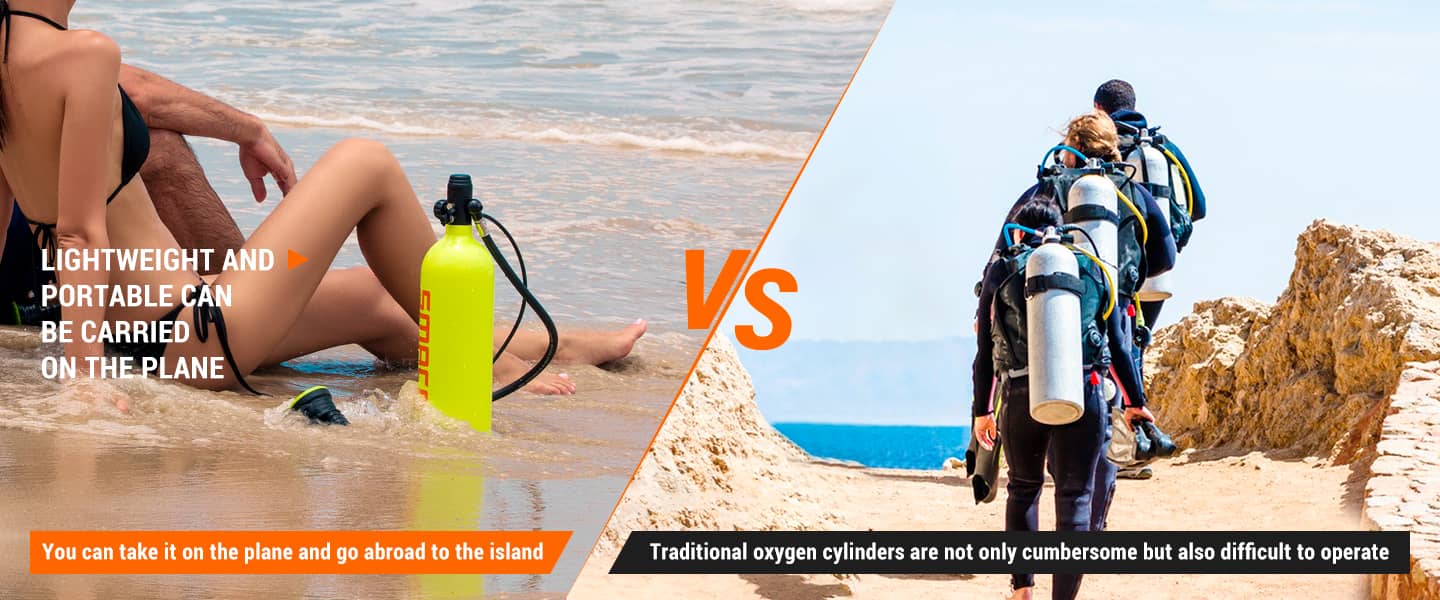 With three refill options available
– at local dive shops, – an 8mm refill adapter, – an electric air compressor
You can be sure you'll never run out of air! Make inflation easier anytime, anywhere! Get ready to explore the ocean with the SMACO S700 2L Scuba Tank – the ultimate diving and snorkeling companion.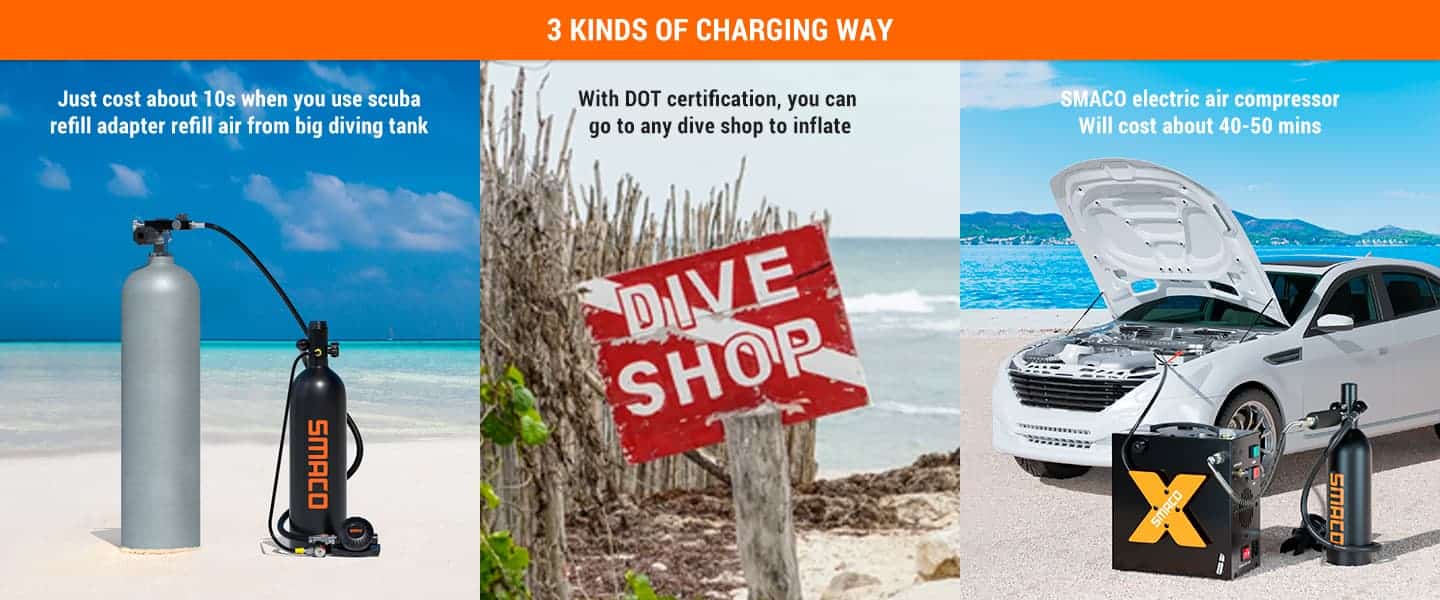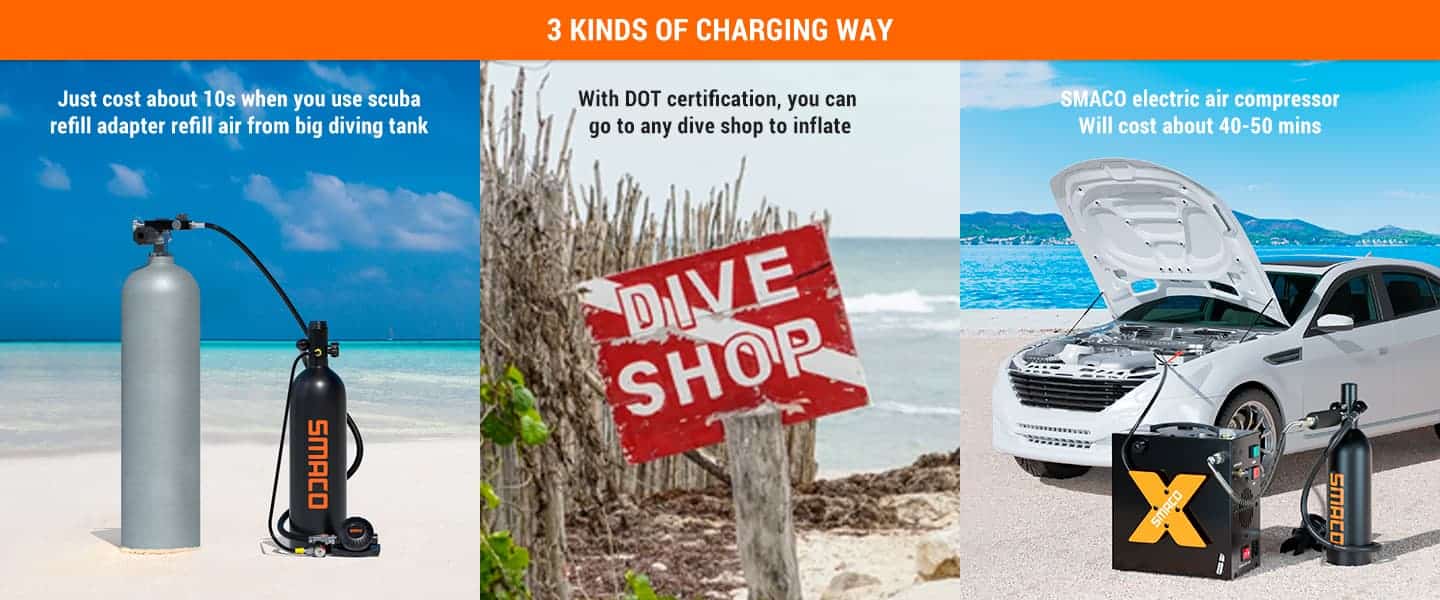 The benefits of the SMACO S700 2L Scuba Tank include:
– Lightweight and compact design, making it easy to transport and store.
– 2L capacity, allowing for longer dive times.
– Three convenient refill options, enabling you to refill anywhere, anytime.
– Easy inflation with an electric air compressor.
– Freedom to explore the depths of the ocean without lugging bulky equipment.
– Increased safety and peace of mind, knowing you have a backup air source in case of an emergency.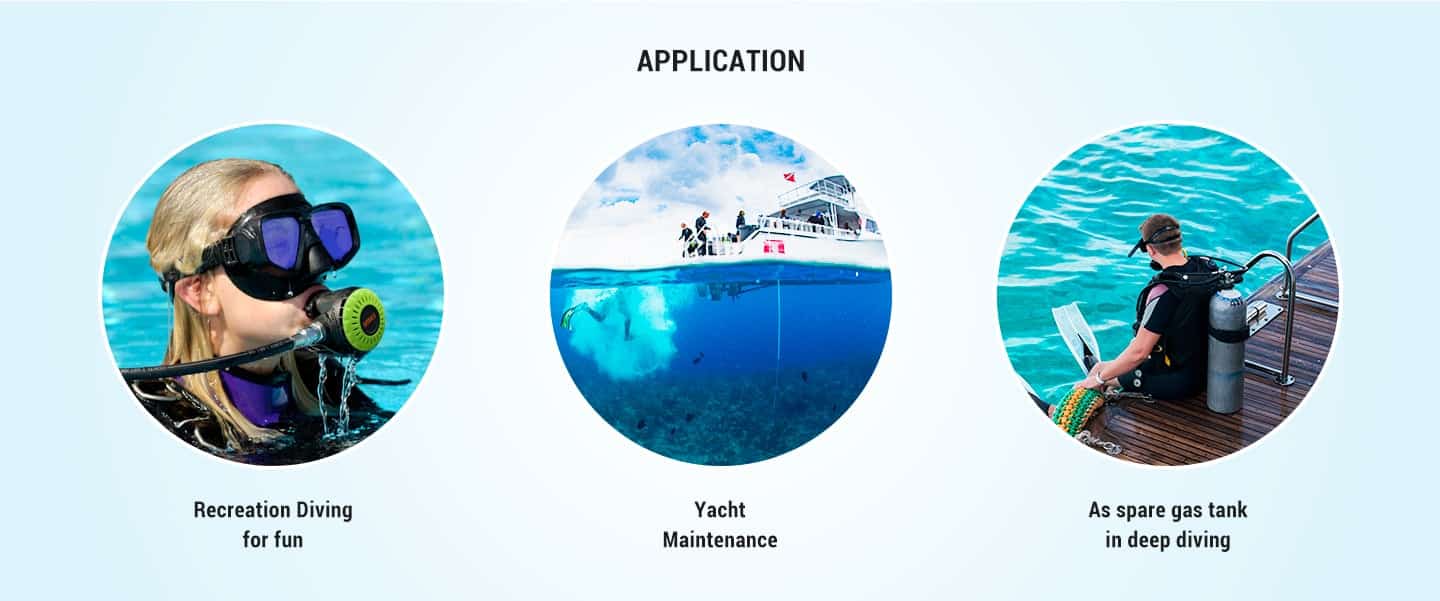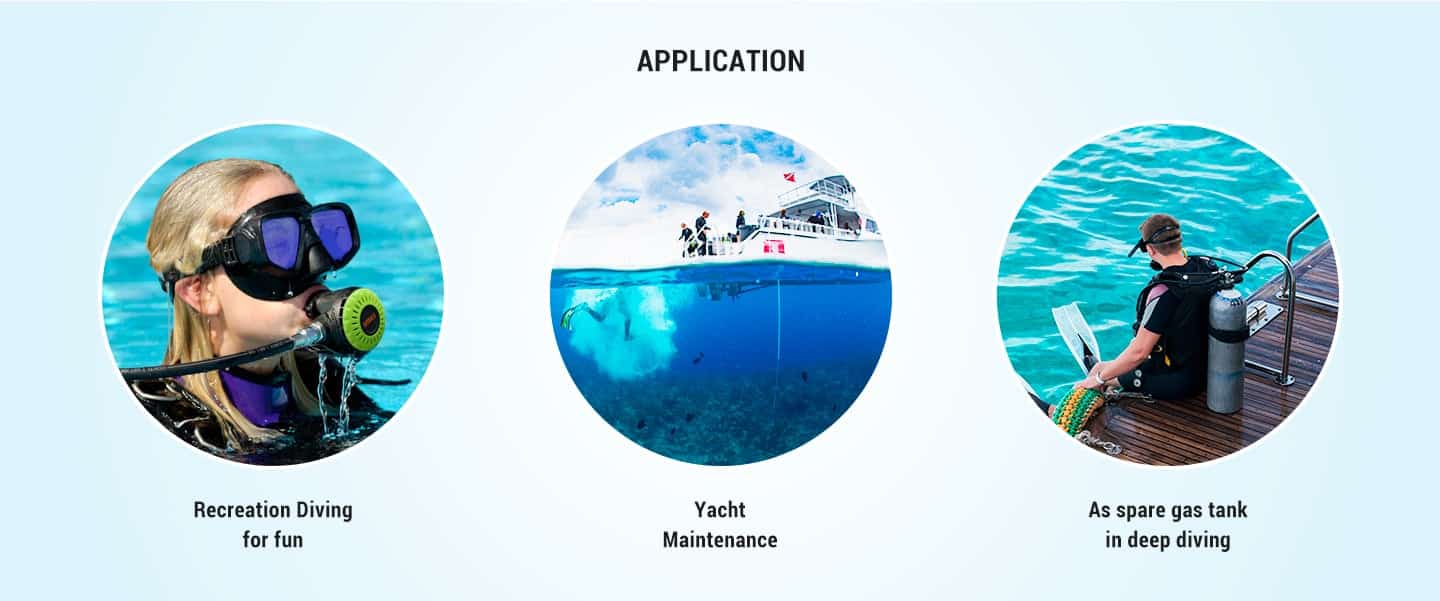 Certificates
A product that has been rigorously inspected to provide you with the utmost in safety and quality. It boasts DOT, CE and other gas cylinder inspection reports from the United States and Europe, so you can rely on its superior performance.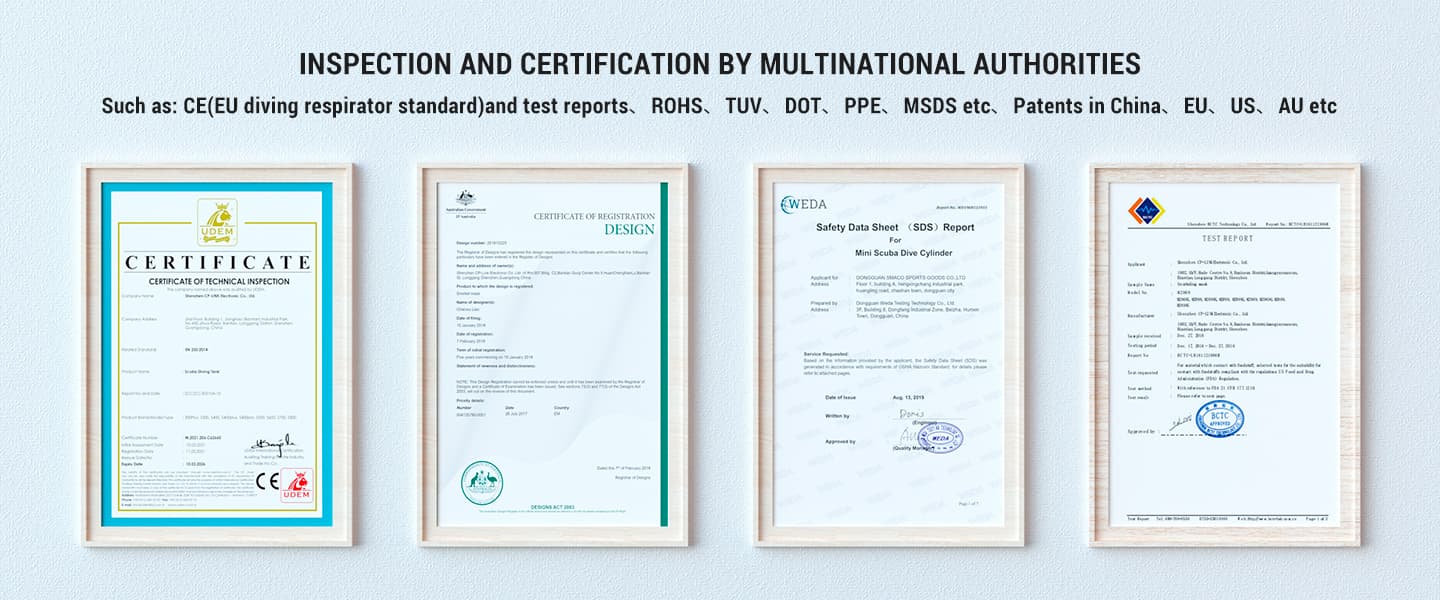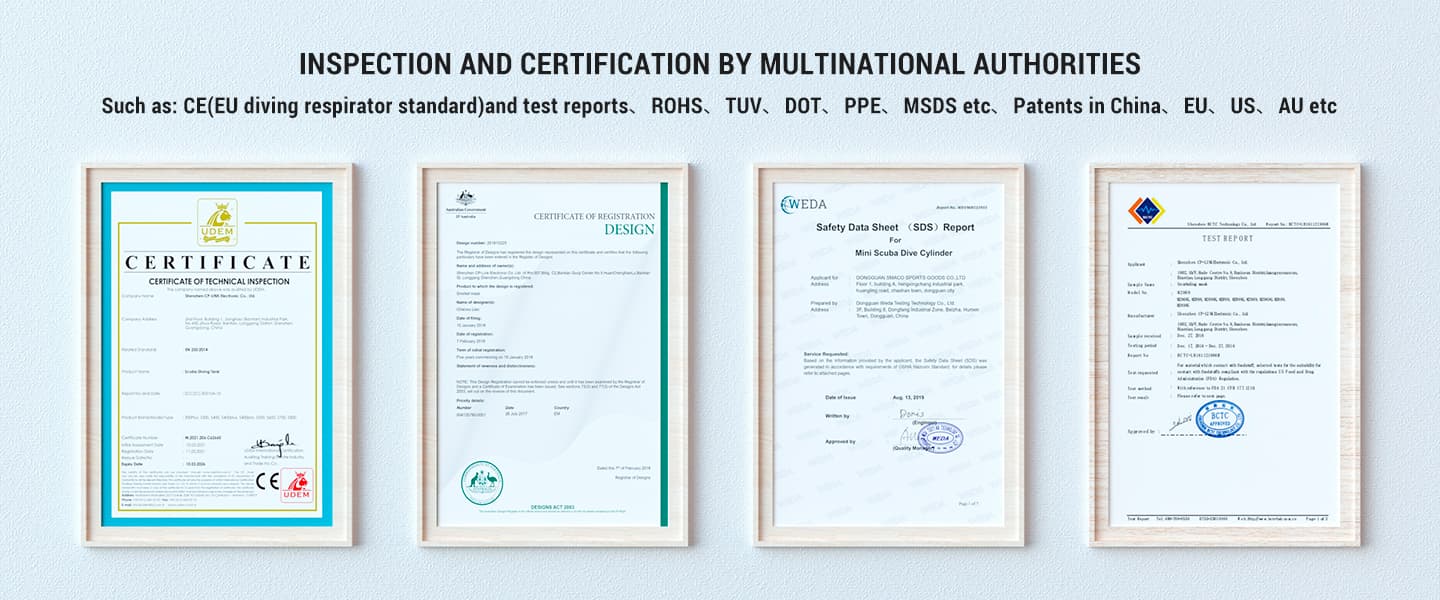 WHAT YOU WILL GET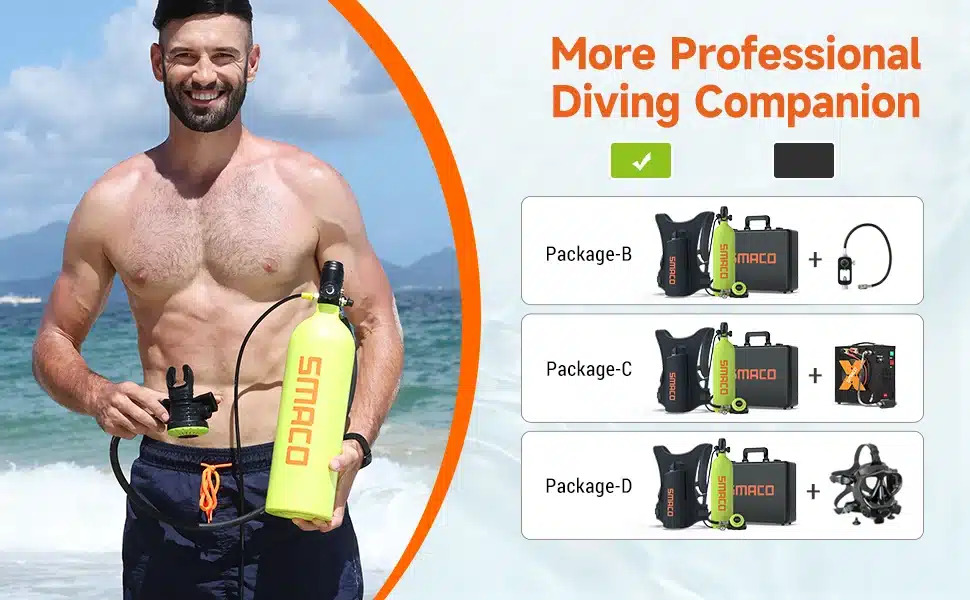 Set A: a 2L scuba tank, aluminum hard case, a vest
Set B: a 2L scuba tank, aluminum hard case, a vest and a refill adapter
Set C: a 2L scuba tank, aluminum hard case, a vest and a smaco heap 1 electric air compressor
Set D: a 2L scuba tank, aluminum hard case, a vest and M8058 full face diving mask
For 1.9liter or 2liter: 2l in Europe, 1.9l in USA
Some frequently asked questions...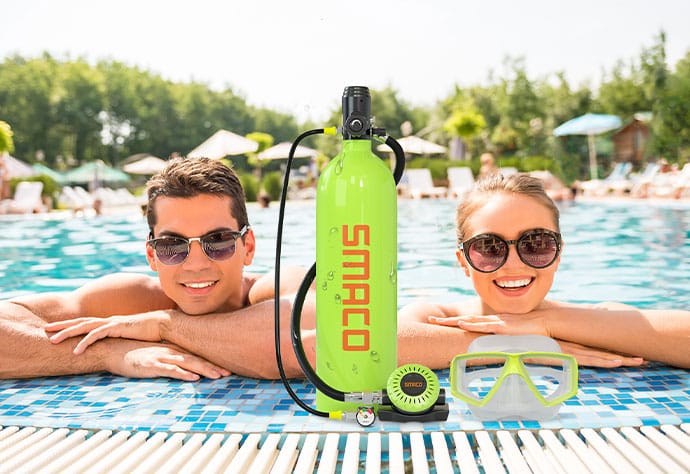 Do your have a money-back guarantee?
Absolutely. We believe the SMACO mini scuba tank is the best portable lung tank on the planet. If you disagree, or are less than 100% satisfied for any reason, then simply send it back within 30 days for your money back.
What kind of product guarantee do you provide?
We offer a return service within 30 days, as well as 2 years of maintenance assistance service. Our commitment to quality and customer satisfaction means that you can shop with confidence when purchasing SMACO products.
Basically, if anything goes wrong with your Mini Scuba Tanks/FFM Mask/Air Compressor- we've got you. We'll repair or replace anything that isn't working.
Product Guarantees
 SMACO offers a 30-day money-back guarantee for customers who are not satisfied with the product. If the product was shipped, the purchase price will be refunded minus the shipping costs.The cost of trial and error is not high, but the cost of miss is very high.
SMACO offers a free replacement for products you received that do not work. You just need to provide your order number and order information on our website, and we will provide after-sales service immediately.
SMACO offers a one-year after-sales service and provides free repairs or replacements for products with defects, excluding those caused by intentional damage. Customers provide the order information on our website and we will respond promptly.
Is one year the end of our service? No! We provide lifetime customer service after the customer purchases our product. Customers can contact us at any time for any issues, and we will solve them or provide help as soon as possible.
We do not accept refunds due to short usage time of the scuba equipment, as this can vary greatly depending on the user's lung capacity, diving depth, and breathing frequency. If you feel that you have used the air tank for too short a period, please contact us! Our PADI certified instructors can provide you with training on how to extend your underwater breathing time, and practice your breathing skills.
We do provide CE and DOT certified inspection certificates for your scuba tank to help you show them when you go to the dive shop to get it refilled, but don't forget to also show them your scuba diving license.

Make money with SMACO

! You can make money with SMACO by submitting pictures or videos of your diving experiences for cash rewards ranging from $5 to $200 with no limit on the number.
For any inquiries, please contact us at contact@smacodive.com and our professional customer & technical teams will get back to you as soon as possible.