SMACO S700 Scuba Diving Tank with Full Face Diving Mask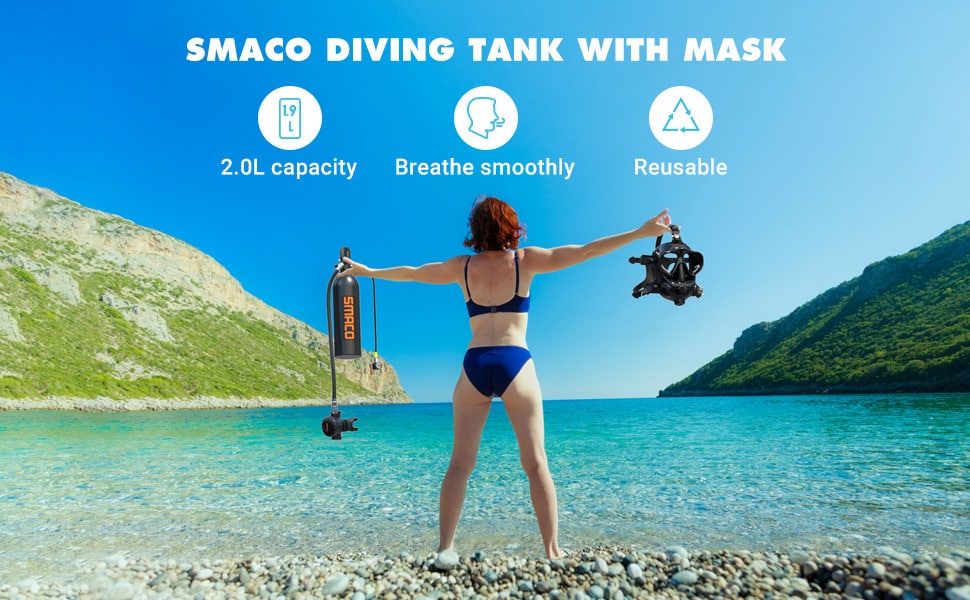 25 MINS UNDERWATER BREATHING TIME
The combination of the M8058 full face mask and S700 scuba tank is perfect for diving or exploring wrecks and caves.It has a capacity of 2L and can breathe underwater for Up To 25 minutes(Please note that different environments and breathing rates will cause different usage times).It also equips with a camera mount. You can easily attach your camera to capture the amazing moment. (Attention: Diving depth, temperature, and breathing rate will affect the use time of the scuba tank.)
MULTIFUNCTIONAL AIR VALVE
The full face mask comes standard with a surface air valve, so you don't waste compressed gas on the surface.letting you breathe through a valve on the right side of the mask.The left air valve can not only exhaust, but also install a microphone.
BEST FIT & EASY DOFFING
The full-face diving mask provides an excellent fit, thanks to the adjustable 5-point head harness. we can freely adjust the strap according to our facial contours. At the same time, the quick release pull bell can help us to take off the diving mask quickly.
HIGH QUALITY
Diving mask made of premium food grade silicone,which has no odor, no oxidation and discoloration, and most importantly, it does not cause skin allergies.At the same time, the body of the diving tank is made of aviation aluminum alloy, which can better resist corrosion and withstand pressure.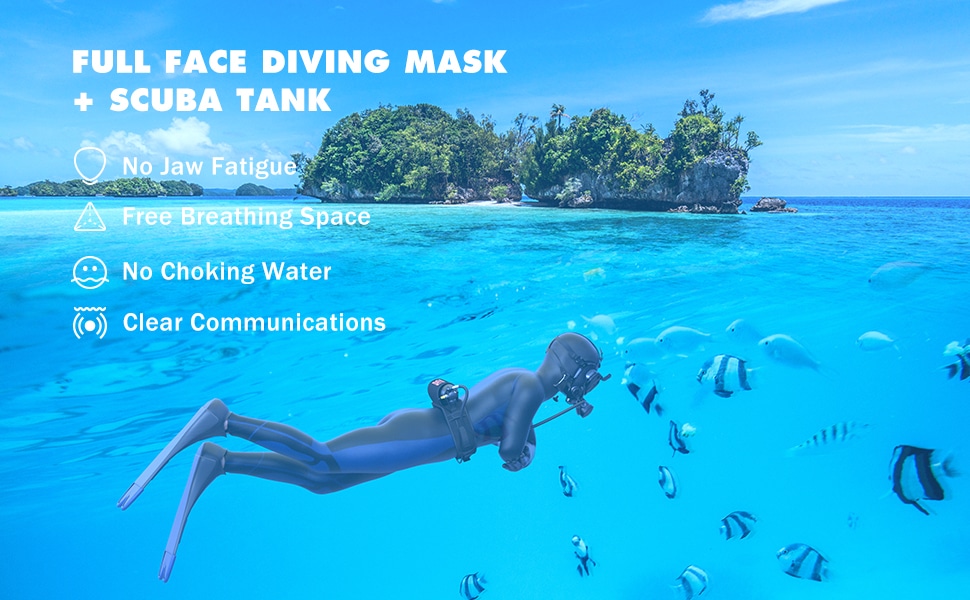 THREE WAYS TO INFLATE
The S700 scuba tank has passed the DOT certification and can be inflated directly at the diving shop.
Use the 8mm SMACO refill adapter. The large diving tank leads to the small diving tank , the filling time is 16 seconds.
SMACO air compressor, the filling time is 46 minutes. Easily solve inflation problems.(The air pressure of the diving bottle cannot exceed 3000psi)
Some frequently asked questions...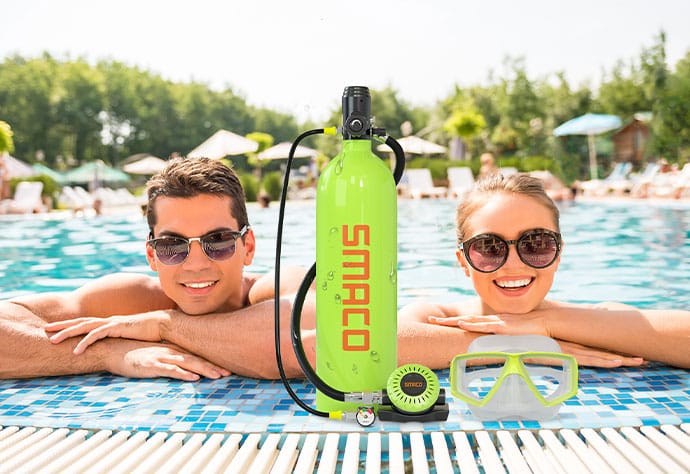 Do your have a money-back guarantee?
Absolutely. We believe the SMACO mini scuba tank is the best portable lung tank on the planet. If you disagree, or are less than 100% satisfied for any reason, then simply send it back within 30 days for your money back.
What kind of product guarantee do you provide?
We offer a return service within 30 days, as well as 2 years of maintenance assistance service. Our commitment to quality and customer satisfaction means that you can shop with confidence when purchasing SMACO products.
Basically, if anything goes wrong with your Mini Scuba Tanks/FFM Mask/Air Compressor- we've got you. We'll repair or replace anything that isn't working.
Product Guarantees
 SMACO offers a 30-day money-back guarantee for customers who are not satisfied with the product. If the product was shipped, the purchase price will be refunded minus the shipping costs.The cost of trial and error is not high, but the cost of miss is very high.
SMACO offers a free replacement for products you received that do not work. You just need to provide your order number and order information on our website, and we will provide after-sales service immediately.
SMACO offers a one-year after-sales service and provides free repairs or replacements for products with defects, excluding those caused by intentional damage. Customers provide the order information on our website and we will respond promptly.
Is one year the end of our service? No! We provide lifetime customer service after the customer purchases our product. Customers can contact us at any time for any issues, and we will solve them or provide help as soon as possible.
We do not accept refunds due to short usage time of the scuba equipment, as this can vary greatly depending on the user's lung capacity, diving depth, and breathing frequency. If you feel that you have used the air tank for too short a period, please contact us! Our PADI certified instructors can provide you with training on how to extend your underwater breathing time, and practice your breathing skills.
We do provide CE and DOT certified inspection certificates for your scuba tank to help you show them when you go to the dive shop to get it refilled, but don't forget to also show them your scuba diving license.

Make money with SMACO

! You can make money with SMACO by submitting pictures or videos of your diving experiences for cash rewards ranging from $5 to $200 with no limit on the number.
For any inquiries, please contact us at contact@smacodive.com and our professional customer & technical teams will get back to you as soon as possible.