Elevating Safety and Quality: SMACO's Unwavering Commitment
In today's market, ensuring the safety of products is of paramount importance. SMACO, a leading name in the industry, stands committed to delivering products that meet the highest standards of safety and quality. From mini scuba tanks and high-pressure air compressors to snorkeling masks, every SMACO product is subjected to rigorous testing and scrutiny, solidifying their reputation as reliable and secure choices for enthusiasts and professionals alike.
Mini Scuba Tanks-Ensuring Safety
SMACO's mini scuba tanks have undergone a battery of tests and hold several certifications, highlighting their commitment to safety. These certifications include:
CE-PED Certification: SMACO's mini scuba tanks have been rigorously tested according to CE-PED standards. The Comprehensive European Pressure Equipment Directive (CE-PED) assessment ensures compliance with essential safety requirements.
CE-PED-C2 and CE-PED-B Certificates: These certifications reinforce the product's adherence to strict safety protocols, signifying its suitability for use in different contexts.
CE-EN250 Certification: The CE-EN250 certification underscores the product's compliance with safety and performance standards for breathing apparatus used in recreational diving.
CE EN13445 and EN1972: These certifications validate that the tanks meet European standards for pressurized vessels, ensuring safe use.
TUV Approval: The TUV certification signifies that the product has met the stringent safety criteria set by the German Technical Inspection Association.
Utility Model Patent Certificate and Design Patent Certificate: These certificates underline the innovative aspects and uniqueness of the product.
Factory Testing Report: The tanks' compliance is further substantiated by a comprehensive factory testing report, providing a detailed overview of the product's performance under various conditions.
High-pressure Air compressor-Elevating Safety Standards
For high-pressure air compressors, SMACO's commitment to safety is equally evident:
FCC Certification: The Federal Communications Commission (FCC) testing report and certificate highlight the compressors' adherence to electromagnetic interference standards, ensuring their safe use.
CE Certification: SMACO's high-pressure air compressors have been subjected to rigorous testing according to CE standards, affirming their compliance with European safety norms.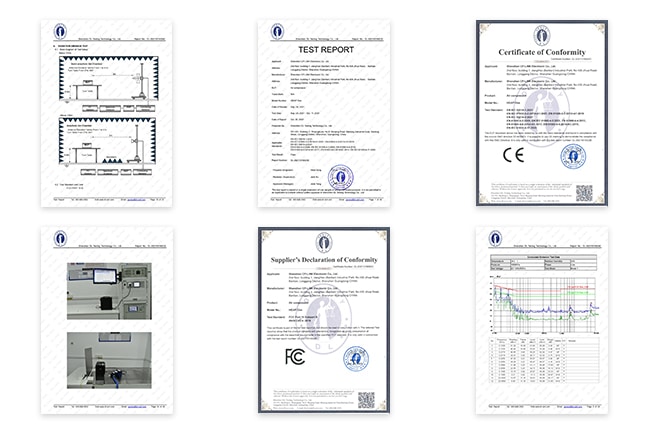 Snorkeling Masks
SMACO's snorkeling masks come with certifications that emphasize safety:
CE Certificate for Diving Masks: This CE certificate underscores the masks' conformity to safety standards for diving equipment, assuring users of their reliability.
ROHS Certificate: The ROHS certificate affirms that the masks are free from hazardous substances, ensuring user safety and environmental responsibility.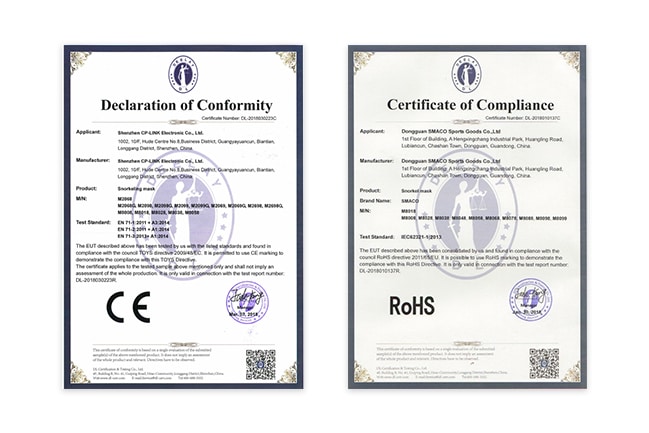 SMACO's commitment to safety is not just a claim; it's backed by an array of certifications and testing reports that validate their products' adherence to stringent safety standards. By choosing SMACO, customers are making a conscious decision to prioritize safety and quality in their diving and snorkeling experiences.
SMACO's Unwavering Commitment
In our relentless pursuit of excellence, SMACO stands firmly committed to delivering products of unparalleled quality and unwavering safety assurance. 
A Promise of Safety
At SMACO, we comprehend the significance of safety in every adventure. Whether it's our mini scuba tanks, high-pressure air compressors, or snorkeling masks, our promise is rooted in rigorous testing and uncompromising safety protocols, assuring you of a secure experience.
Championing Certifications
Our devotion to your safety is fortified by an array of certifications. These certifications, from CE-EN250 to CE-PED, stand as testaments to our products' adherence to global safety standards. Every certification symbolizes our dedication to upholding the highest safety benchmarks for your peace of mind.
Your Trust, Our Drive
When you choose SMACO, you vest your trust in us. Your trust fuels our relentless efforts to enhance our products' safety features and testing procedures.
We are not just providing equipment; we are providing the result of tireless innovation, rigorous testing, and an unwavering dedication to your safety.
Safety and Quality
Safety and quality form the core of SMACO's ethos. Our commitment extends beyond mere words; it's a tangible expression of our values. Choosing SMACO signifies aligning with a partner who shares your devotion to safety and your passion for exploration. Together, let's plunge deeper, venture farther, and revel in the marvels of the underwater world, with SMACO ensuring your safety every step of the journey.