SMACO Mini Scuba Tank 2L Capacity Scuba Diving Tank Support Up To 25 Minutes Underwater Breathing Small Scuba Tank Kit with Portable Box for Underwater Entertainment/Diving Work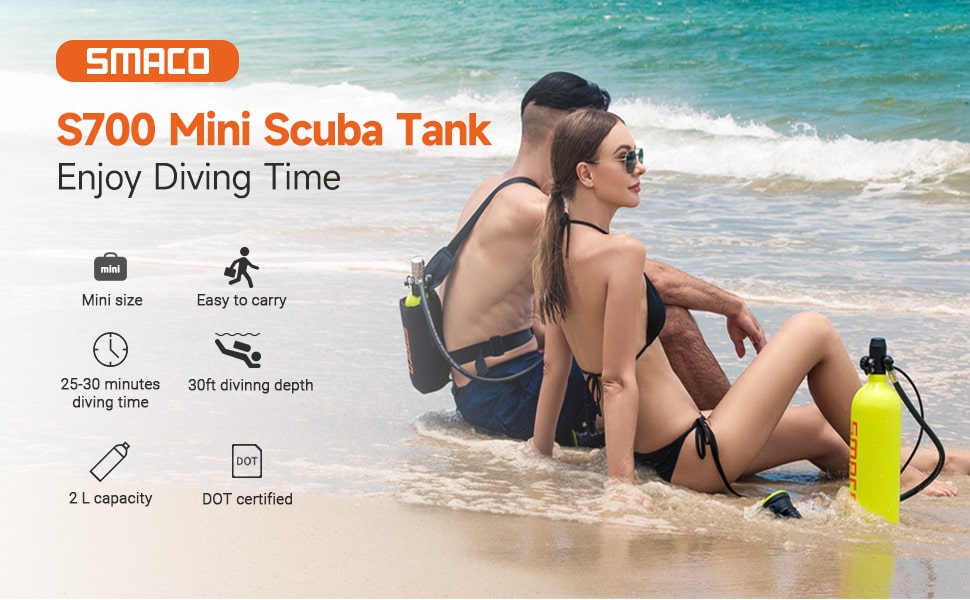 A good mini! Nice little Scuba set!
2L Mini scuba tank Valentine's Exclusive Kits
Smaco S700 2L Scuba System is designed to be compact, lightweight and portable. Our small scuba gear fits into a backpack (included) so you can have SCUBA GEAR with you on every adventure.
It is an ideal system for diver, snorkelers, boaters, cruisers, live-aboards, any short term emergency air needs, and is easy to travel with.
This time, Smaco mini scuba system has specially set up a 2L double-bottle package for Valentine's Day, for the best gift you can choose. it's a perfect combination scuba kits whether it's for your lover or for yourself.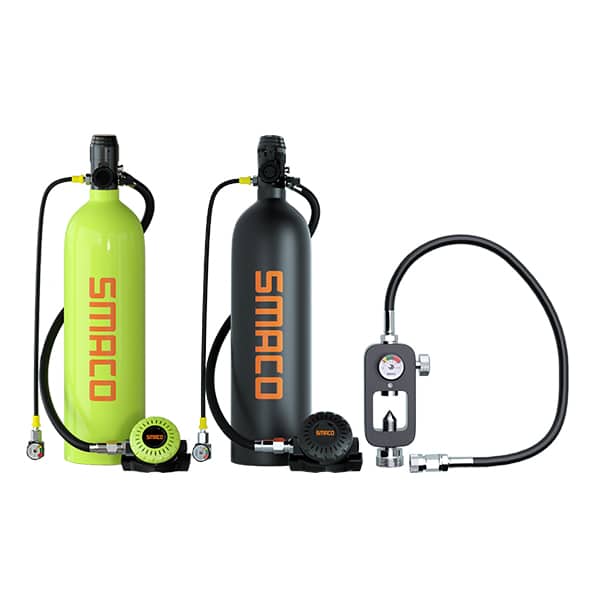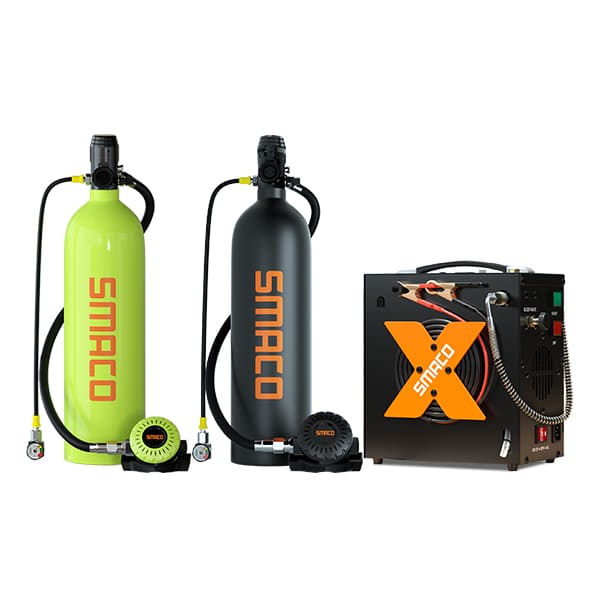 More Convenient Scuba Tank For Home/Travel
Scuba Diving in a pool party!
Planning a perfect pool party is definitely cool. Immerse yourself in the water for ultimate relaxation, feel the breeze caressing your skin, and express your intimate relationship with family and friends in a daylight-intoxicating vibe… Who wouldn't love it?
Enjoying Your Diving Trips!
The Smaco S700 Mini Scuba System fits easily into small places on the boat or can be taken on the plane, it allows you hassle free diving for all your underwater projects. Feel the freedom of movement of a free diver while breathing comfortably. (Appropriate Scuba certification/training required for safe use)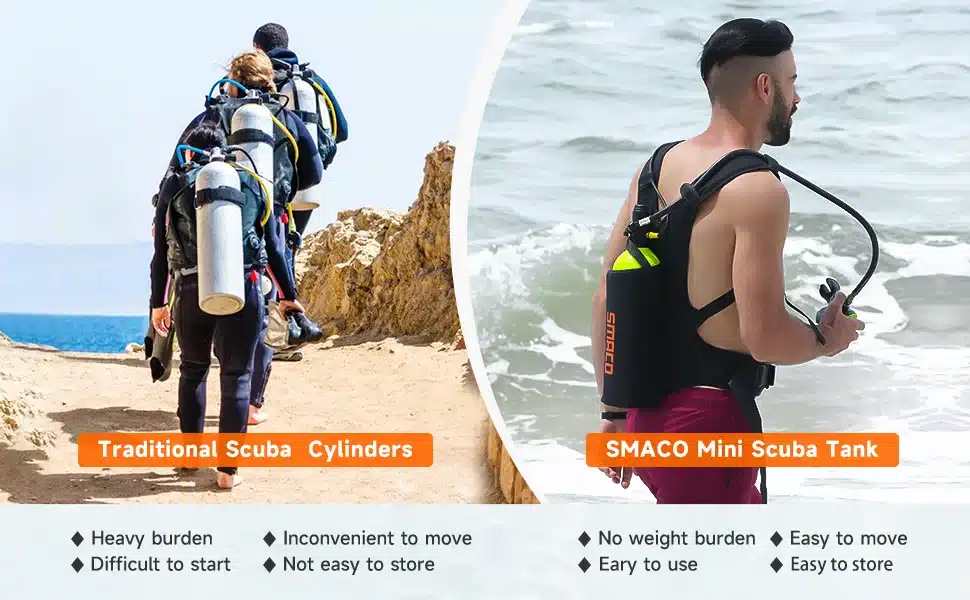 Which Has Multiple Inflation Ways
The diameter of S700 mini scuba diving cylinder's inflation interface is 8mm, maximum inflate pressure is3000Psi/200Bar/20Mpa. We've also got CE and DOT certified.
Refill by scuba shops.(For uncertified diver, please check in advance if your local dive shop can inflate for you).
Refill by an air compressors.
Refill by scuba refill adapters
There are many inflation/refill ways, but please make sure your devices could provide pressure no less than 3000Psi/200Bar/20Mpa.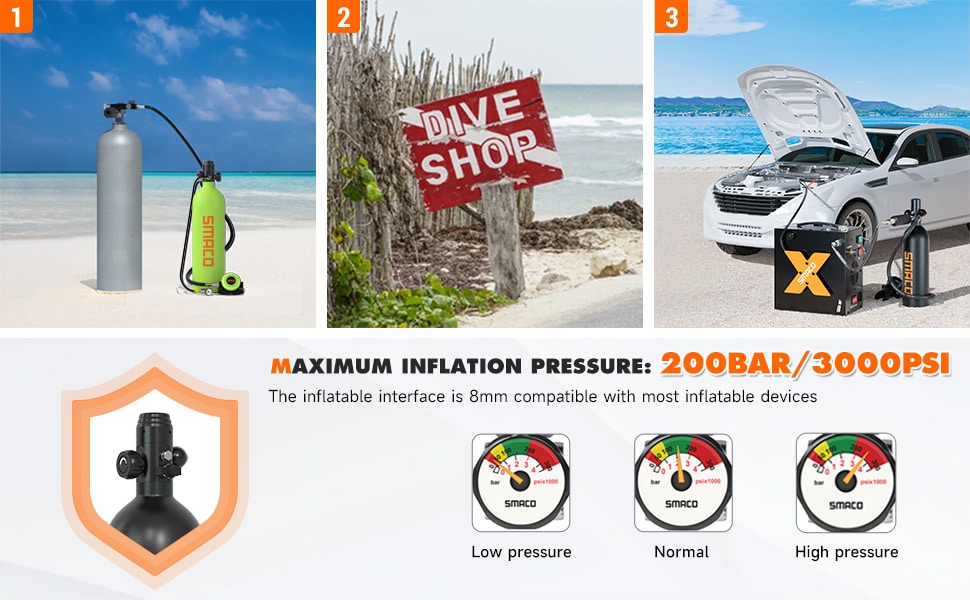 Best Product Performance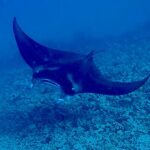 Great in Hawaii!!!
I live in Kona, Hawaii. Purchased 2 of the Smaco 2l dive tanks and 2 of the 1l dive tanks. These products are just awesome!!! I have used them almost daily personally and with family members for 2 months now on over 60 dives. I dive 15-40 ft down with a 5-6lb weight belt to swim with the giant Manta Rays, Spotted Eagle Rays, White Tip Reef sharks, Grey Sand sharks, schools of baitfish etc.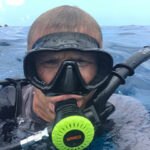 Amazing!!
This is absolutely fantastic. This has made training in the pool for extra practice for my scuba certification so much easier. It's very lightweight and much less expensive than a full sized one. This is great for short dives. I never got the full 35 minutes out of it but I got around 20-25. I haven't tried any other mini ones to compare this to but from my experience with it I would recommend it.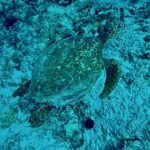 Nice little set!
Definitely worth the purchase. I have been really wanting a tank like this for many years, and when I finally got one I can't tell you how truly impressed I was when I first saw it! This mini sized tank is great for the beach, lakes, rivers, and coral reefs. This will take your snorkeling adventures to the next level! My wife and I loved snorkeling in Florida, especially in the springs and I have always wanted to be able to use a small scuba tank like this one.
What Will You Get From This Package:
2 * S700 mini scuba tank (the regulator is separated from the body, you'll need to assemble them), portable backpack, black box, and some additional interchangeable accessories.
PKG A: 2 * S700 Mini Scuba Tank Sets with a S-02 refill adapter
PKG B: 2 * S700 Mini Scuba Tank Sets with a Heap 1 Electric Air Compressor