Product Description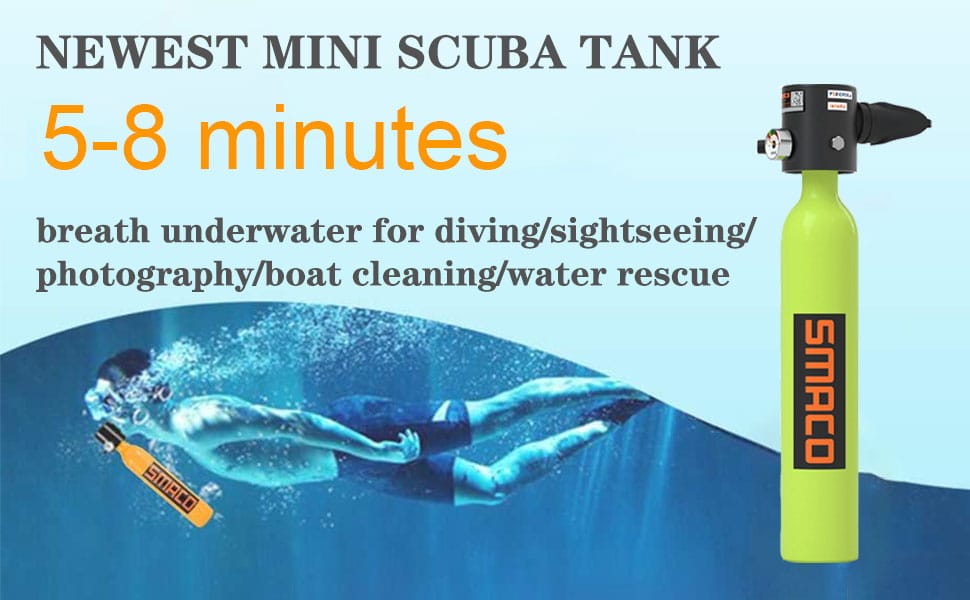 RIGHT CAPACITY AND SIZE
The diving tank has a capacity of 0.5L, can supports for about 5-8 minutes underwater breaths (This is the result of a test in a water area of 15 ft and 50 ℉, only for reference, the actual dive time varies from person to person). The tank only weight for 2.38 lb, you can easily carry it and even take it on plane when you separate the regulator and tank body.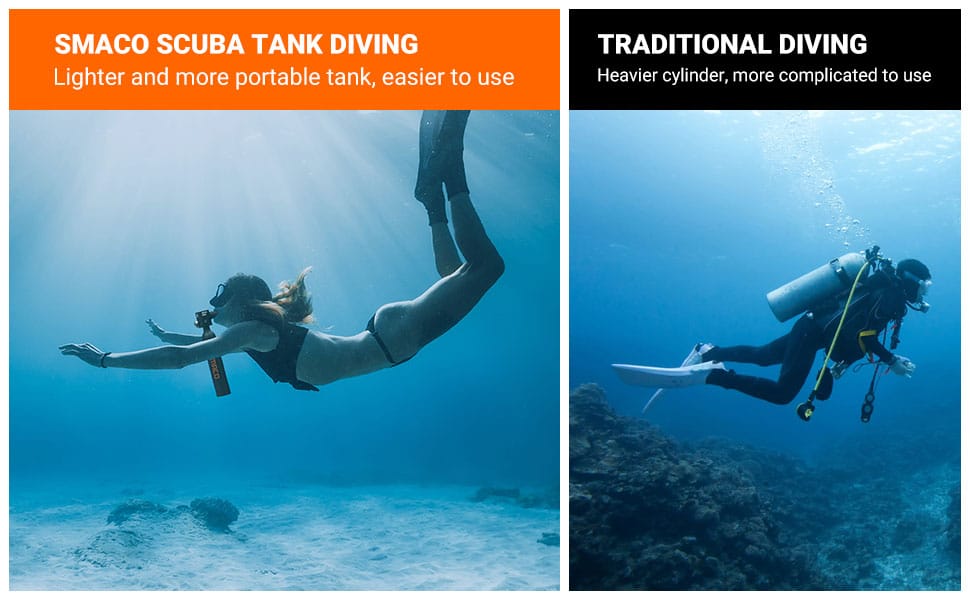 HIGH QUALITY
The tank was made of 6061 aviation aluminum, it's stronger and more resistant to seawater corrosion. The regulator includes pressure gauge, mouthpiece, inflation interface, pressure relief valve, explosion-proof valve, it can be used normally for 2 years, we also provide extra parts for replacement in the accessories bag. (The collision during transportation may cause some parts loose and lead to leak, if problems appear, please contact our services to fix it)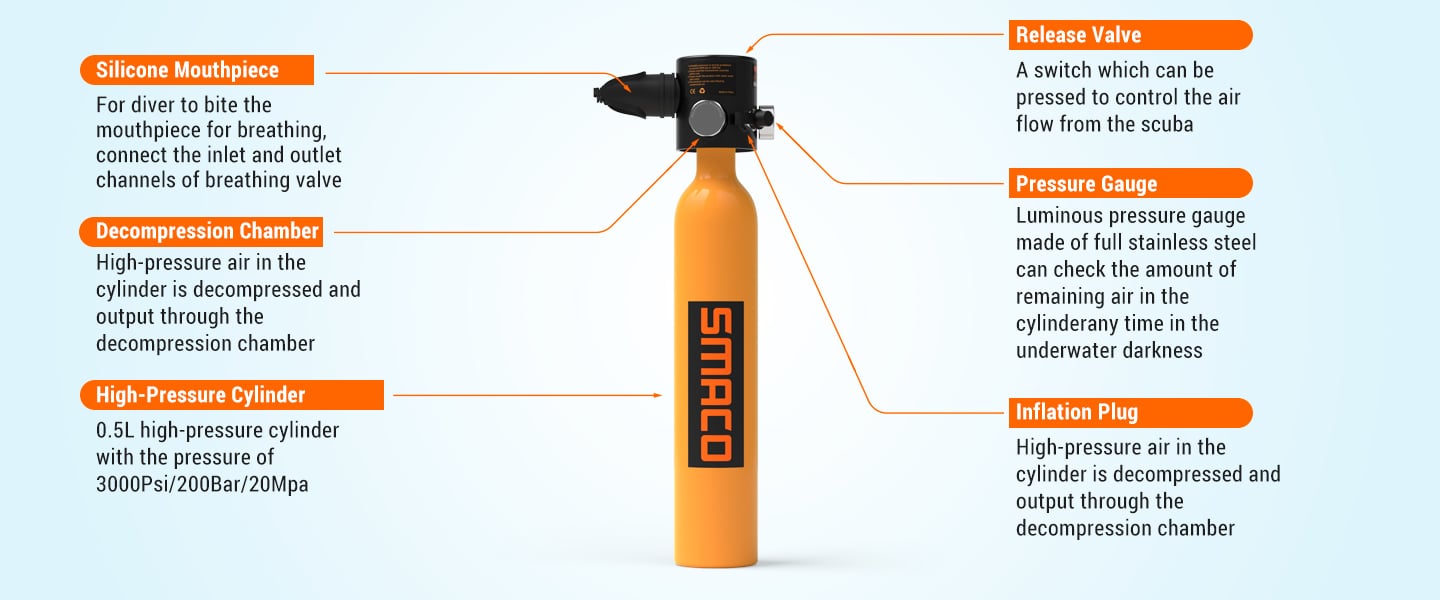 FOR DIVING PRACTISE & AS EMERGENCY AIR
If you are an enthusiast or diver, it is enough for a practice dive or a simple diving trip; If you are looking for a backup air source, it's also a good choices, the maximum depth can reach up to 100 ft when used as emergency tank.The scuba tank's work pressure is 3000Psi, and inflatable interface is 8mm. It can be inflated with a scuba adapter, an air compressor and a high-pressure hand pump.
Three inflations ways(Maximum pressure: 3000Psi/200Bar)
This tank is very easy to use, just bite the mouthpiece and you can easily breath underwater. We suggest that people should get diving certified before get this tank. Scuba tank's work pressure is 3000Psi, the inflation interface is 8mm, you can use the air compressor, scuba adapter and hand pump to inflate it, please make sure your devices can provide at least 3000Psi pressure.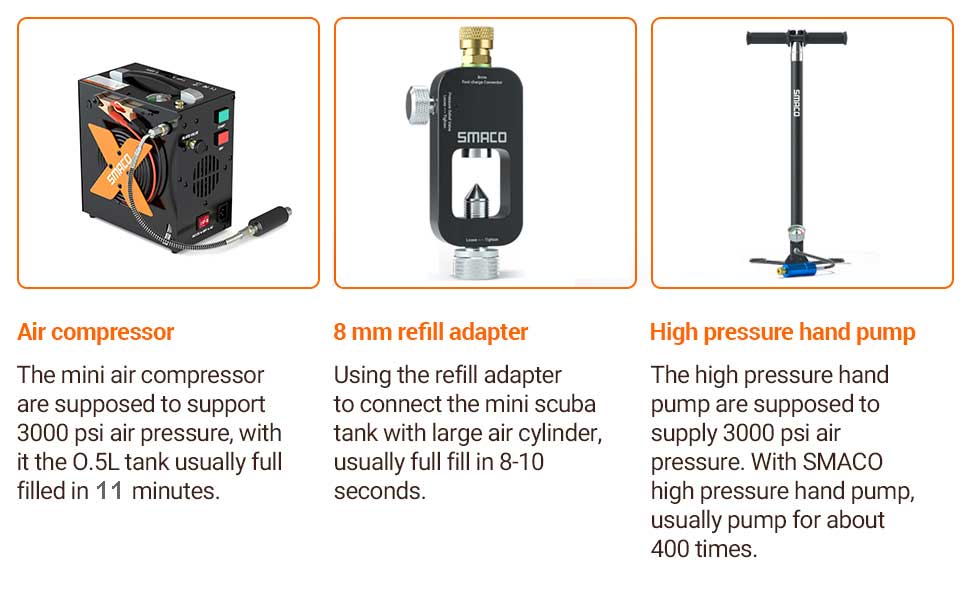 AFTER-SALE SERVICES
Everything will be packed in the package, package included: SMACO mini scuba tank (the regulator is separate from the body, you'll need to assemble them), instruction manual, extral "O" rings and fix tools. We provide 30-days-free-return and 24-hour online customer service, we always be responsible for our products.If you have any questions, please do not hesitate to contact us.